DMC STRANDED COTTON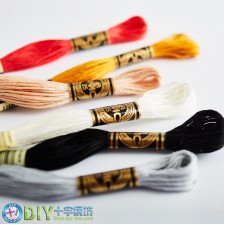 Brand:
DMC

Product Code:
art 117
Availability:
In Stock
Price: RM2.30

please confirm the quantity and leave a message for which color and the correct amount for each color.
if any color Out of stock,we will resend when stock reach.
Details
DMC Cotton Embroidery Floss is a soft thread made from 100% long staple Egyptian cotton and double mercerized to give it brilliant sheen.
This superior quality thread is perfect for stitching on all types of fabric.
It is comprised of 6 size 25 easily separated strands, allowing you to adjust the thickness of your stitching by using a different number of strands.
DMC Floss is the most recommended and widely distributed thread in the world.
Colors are 100% colorfast and fade resistant.
DMC Cotton Embroidery Floss is available in 447 solid colors, 18 variegated colors and comes in 8.7 yards in a pull skein put-up.
Care & Washing
DMC Cotton Floss is 100% colorfast and can be washed on a frequent basis, without causing the color to fade.
The Floss can be washed at very high temperatures 95° C/203° F. Particular attention should be paid to the fabric on which the thread was embroidered.
Wash your embroidery with one teaspoon of mild soap such as Orvus.
After washing, gently wring it out and rinse it as many times as necessary to get the soap out of it (until the water is clear).
Use almost cold water to rinse the piece. Wrap the embroidery in a towel to remove excess water, then dry flat.
Place the embroidery on a clean towel, preferably while still damp, and iron on the reverse side, at the temperature setting recommended for the fabric.
Made in France.
How to Use
Each length of floss is composed of six individual strands, allowing you to adjust the thickness of your stitching by using a different number of strands.
To separate the strands, take your skein of DMC Floss and find the tail that sticks out.
Slowly pull the tail out from the skein until you have an 18" length of floss and cut it off.
To separate the floss into individual strands, pull one strand up and out slowly until it is completely separated from the remaining strands.
Continue to pull out the number of strands you'll need to stitch with.
To rejoin the threads, hold them together at one end then gently stroke the lengths to smooth and recombine them.
DMC STRANDED COTTON