Specials



TOP THIS PUPPY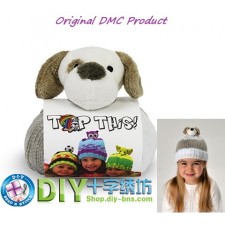 Brand:
DMC

Product Code:
TTY15PU
Availability:
Pre-Order (Local)
DMC TOP THIS PUPPY
PRODUCT HIGHLIGHTS

DMC Top This!™ Puppy (Article TTY15PU)

Yarn: 78% Acrylic/22% Nylon
Character: 100% Polyester
80 g ±98 yd ball
USA needle size 9
Gauge: 4" x 4" = 15 stitches x 24 rows stockinette stitch
DETAILS
Top This!TM

with PUPPY Love!

Introducing the Top This! Puppy – a soft, luxurious mix of ivory and taupe colored yarn in continuous textures with a cuddly cute stuffed Puppy to sit playfully on top of the knitted hat. Both new and experienced stitchers will not only love the look of the continuous textures, but how easy it is to get this look - they never need to change yarn! Toddlers to teens will snuggle up to their playful Top This! Puppy hat that knits up in no time. FREE knitting hat pattern included with each ball.
TOP THIS PUPPY